Picture credit: Markus Spiske


Forget Black Friday, Autumn housing market offers best savings!
24th November 2020
Get your coat (and mask) on! Ok, I know it's still lockdown, and yes it is getting chilly out, but you're off house hunting… or at least, you should be. Sorry to be pushy about this but hear me out. Maybe you've parked your house hunt in Camberley until the New Year or are thinking – "what's the rush to go on the market?" Well, read on and I'll tell you.
Hurry, hurry!
Yes, the stamp duty holiday does indeed run through to the end of March 2021 (and could save you up to £15,000 in fees). And yes, that is still a whole four months away. But did you also know that it is estimated that 650,000 sales are going through the buying and selling process right now? That is up 67% on the same period last year! Furthermore, the average sales transaction takes 12 weeks to exchange – and that is in normal (non Covid) times.
What this all means is, if you were thinking of selling early in the New Year to catch that all important 31st March deadline, the chances are you'll be leaving it too late come January.
Now, before you ask, no – I don't think it will be extended. While we are in unprecedented times, the Government has previously given much shorter stamp duty holidays – and they didn't extend any of those. And well, let's face it, Rishi Sunak and the Treasury could use the extra money right now!


Silver lining for homeowners?
While Covid-19 restrictions and lockdowns continue to cause doom and gloom for many, and certainly on the high street, there is at least some good news for homeowners. And those in the southern regions have fared particularly well when compared with the national average The South-East, for example, has seen a 69% uplift in house sales year-on-year.
So, what of the local housing market? Well, let's dive into the Autumn figures for GU15… this is after all a Camberley property blog!
There is good reason for Camberley homeowners to be cheerful as, from 1st – 18th November, there have already been 56 sales agreed. And the and average house price for the area is now £479,132, which represents an increase of 7% since 2019. The Office for National Statistics (ONS) released their latest figures for this year last week, showing the rural relocation to the South-East has benefitted the area with an annual house price rise of 4% so property in GU15 is faring very well indeed.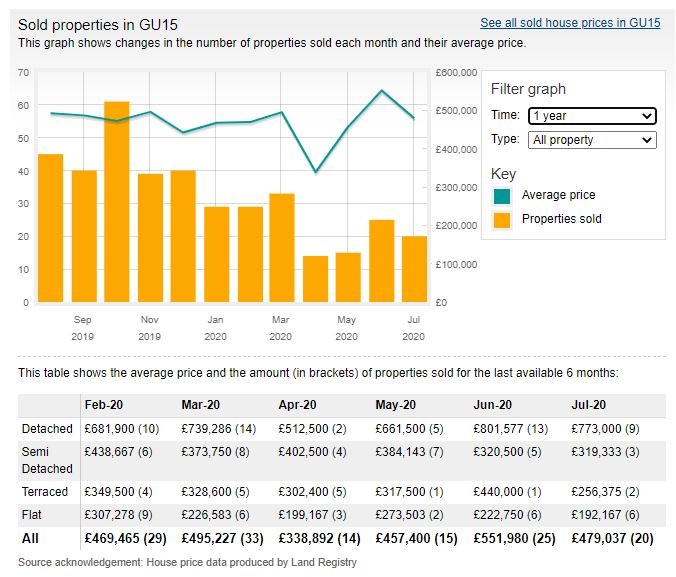 (Sources: Rightmove - property market updates, BBC and Land Registry)
This goes to show that leafy Camberley still maintains its reputation of being a desirable and deeply affordable part of Surrey.


What other housing trends can we see?
Well, as you may expect with the March deadline looming closer, I am seeing a rise in the number of properties coming to the market. It also appears that some of the most recent instructions are being more keenly priced… and that those that were (ahem) somewhat over-priced, are now quickly and exhaustively being reduced.
The pricing point is an important one. I'm not here to name names but it is clear to me that some Camberley estate agents have been a bit overzealous with their pricing. This is reflected in the fact that, in GU15 alone, there have been 42 price reductions since 1st November, and over 194 listings sat on the market for over 12 weeks. (Source: Rightmove)


(Picture credit: Rightmove)


Key messages to take from this
My advice to homeowners right now is:
If the stamp duty holiday is important in your planned house move, you really must get on the market this side of Christmas. In doing so, you will have enough time to effectively market your property, to find the best placed buyer for it and agree a good price. And by doing so early, you will give yourself some contingency to get through the conveyancing process and deal with any unexpected issues that may arise
Make sure you price your homes sensibly and be careful to be wooed by unrealistic valuations. The clear danger right now of an inflated price is it could waste you valuable time, putting off prospective buyers. And regardless, as with getting any quote from a service provider at any time, it is always good practice to speak with a few experts and get several valuations.
This way you should be well informed before making any decisions.
How you present your home is vitally important - it really is! Buyers want to imagine living in your house on their viewing. They're going to be thinking about where their furniture can go, but they wont be able to do that if each room is cluttered or bursting at the seams with clothes, shoes, bags, toys and storage boxes....you get the picture. For a great guide to getting your property ready for the market and presenting your home, click here.
(Hopefully this one wont be needed but...) Finally, with so many properties sitting on the market and agents tying their clients into 12 weeks+ contracts, ask the agents you're seeing what their anti-stagnation strategy is...beyond price reductions that is!