Wellingtons Estate Agents Wins Best Hybrid Estate Agency in Surrey at SME UK Enterprise Awards 2023!
We are thrilled to announce that Wellingtons Estate Agents has been honored with the prestigious title of "Best Hybrid Estate Agency in Surrey" at the SME UK Enterprise Awards 2023. This accolade reflects our unwavering commitment to going above and beyond in providing exceptional service to our valued customers and clients. We are immensely proud of this recognition and would like to extend our heartfelt thanks to all those who have supported us on this incredible journey.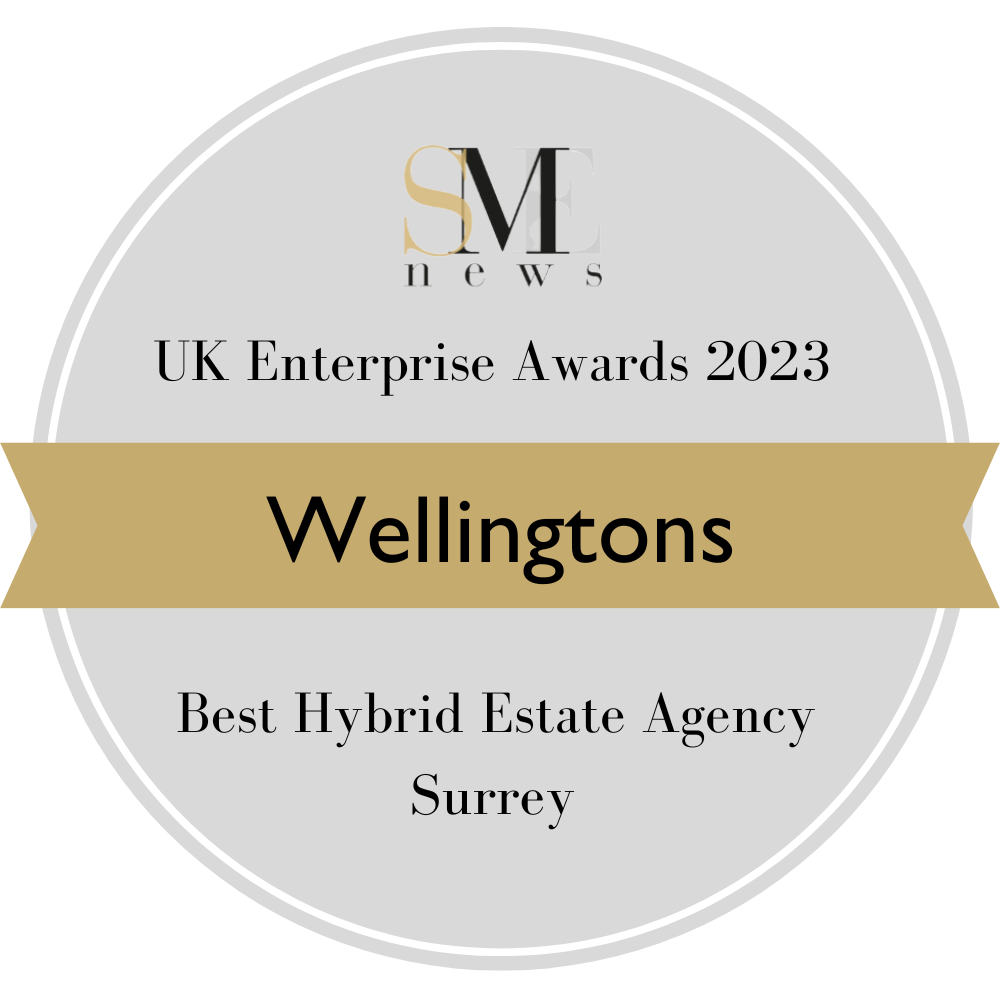 Our Hybrid Approach:
At Wellingtons, we have always believed in adapting and evolving to meet the changing needs of our clients. Our hybrid approach seamlessly combines the best of traditional estate agency with the efficiency and convenience of modern technology. This allows us to offer a personalised, high-quality service while harnessing the power of digital tools to streamline the move process.
Dedicated Team:
This award would not have been possible without the dedication and hard work of our exceptional team. Wellingtons is committed to delivering outstanding service at every step of the real estate journey. Our passion and expertise shine through in every transaction, ensuring our clients' needs are not just met, but exceeded.
Customer-Centric Philosophy:
At the heart of our success lies our unwavering focus on our customers and clients. We believe in building strong, lasting relationships by actively listening to their needs, providing honest and transparent advice, and offering tailored solutions to help them achieve their property sale goals. Our commitment to putting our clients first has been the cornerstone of our success.
Innovative Technology:
In today's fast-paced world, technology plays a pivotal role in the property industry. We have invested heavily in cutting-edge technology to enhance the customer experience, offering virtual tours, online property listings, and secure communication channels. This not only saves our clients time and effort but also ensures that they can make informed decisions with ease.
Gratitude:
We would like to express our gratitude to SME UK Enterprise Awards 2023 for recognising our efforts and presenting us with the title of "Best Hybrid Estate Agency in Surrey." This award serves as a testament to our ongoing commitment to excellence and innovation in the estate agency sector.
Moreover, we extend our heartfelt thanks to our loyal clients and customers who have trusted us with their estate agency needs. Your faith in our services and your continued support have been instrumental in our success.
Conclusion:
Wellingtons is immensely proud to be named the "Best Hybrid Estate Agency in Surrey" at the SME UK Enterprise Awards 2023. This award reaffirms our dedication to providing exceptional service to our clients and showcases our commitment to adapting to the evolving estate agency landscape.
As we look forward to the future, we remain steadfast in our mission to offer the best of both traditional and modern estate agency services. With our dedicated team, customer-centric approach, and innovative technology, we are excited about the opportunities ahead and the chance to continue exceeding our clients' expectations.
Thank you for joining us on this remarkable journey.